Climate change and the oil industry have for a long while seemed like an unstoppable force meeting a hard object. For far too long, neither would budge. The global oil and gas industry has seemed quite prepared to risk planetary disaster to continue in their old ways,. T outsiders looking in, the industry leaders all seemed to be forever addicted to making money from the outdated fossil fuels of the 20th century.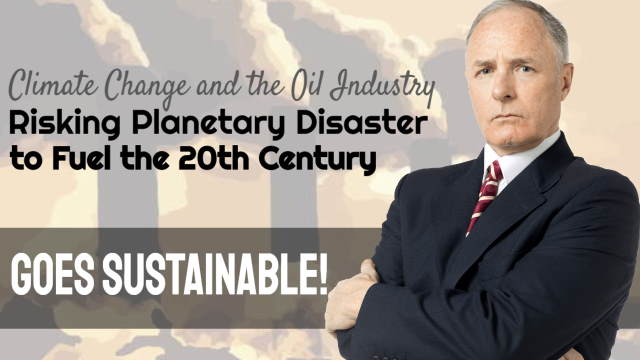 However, there are signs now that the addiction to oil and gas will soon fade, and the withdrawal pains may not be anywhere near as awful as the proponents of fossil fuel use have been suggesting.
Will it prove to have been soon enough? Only time will tell. But, we are convinced that managing climate risk will become an essential function while the world community tries to stave-off hugely damaging temperature rises, "plugging the dam" where damage is worst by the application of emergency to ameliorate climate risk.
In this article, we explain how the all-powerful oil and gas industry, until now hell-bent on powering global warming, has started to turn toward renewable energy. Mind you it is only changing now that renewables are almost all now substantially cheaper than their beloved oil.
So, how did it first come about that people-power could truly influence the climate changing actions of the oil industry? In the section which follows we explain how dissent toward the status quo of an unanswerable industry, at first came from the unlikely location of Iraq.
Iraqis fight climate-changing oil companies in 2020
Protests in Southern Iraq in December 2019, that led to the shutdown of the Nasiriyah oil field, provide our example of how popular discontent, exacerbated by the perceived lack of shared benefits from oil and gas production can close an entire oilfield.
Protesters broke into Iraq's southern Nassiriya oilfield and forced employees to cut off electricity from its control station. This took the field offline completely.
The oilfield was producing 90,000 barrels a day (BPD) of crude at the time. But such was the force of that crowd that with protesters chanting "no homeland, no oil", they forced its closure.
The industry's resiliency to these reputational challenges will depend on whether it can create credible pathways to net-zero emissions and effectively communicate them to a skeptical public.
They will need to work hard, to convince a public that believes that the industry is more of an opponent. Not an ally. In the fight against climate change.
This is all part of the global movement for Climate Change Action, in which thousands have stepped up to protect nature.
Natural assets everywhere are seen as in need of mass support. Assets like mangroves, which trap carbon and safeguard coastal communities against sea-level rise and storms. Restoring mangroves is just one of the essential ways we can use nature in our urgent fight. To halt climate change.
Oil and gas companies are part of the climate change oil and gas industry solution
Believe it or not, but we think that oil and gas companies are going to be part of the climate change solution.
Oil and gas companies have spent the last five decades lying to the public about the threat of climate change. Now they're trying to sell themselves as part of the solution. The public hasn't been falling for it, so they are just going to have to do better. They are just going to have to stop their "greenwashing" with their idea of continuing fossil fuel use can continue for long at any significant rate.
The reason being that renewable energy sources are winning is that there has been a rapid drop in the cost of solar power and wind power over the last 2 years or so. So much so that soon nobody will want to buy their oil and gas in competition with renewable energy alternatives.
This is shown in a report published in June 2020 which shows how renewable power is increasingly cheaper than any new electricity capacity based on fossil fuels. This new report has been sponsored by the International Renewable Energy Agency (IRENA). It finds that renewable power generation costs in 2019, for more than half of the renewable capacity added in that year, achieved lower power costs than the cheapest new coal plants.
We know the only solution in line with the latest science is to stop all new fossil fuel projects and phaseout existing production as soon as possible. So, the danger is that the oil and gas industry will continue pumping out their dangerous fuel from existing wells until those assets are drained.
But at least we are told that; "most oil and gas companies recognize the threat of climate change and want to be part of the solution." That's' what CLC chairman Ted Halstead wrote in a recent iteration in the New York Times. The "energy majors," he argued, "are an indispensable part of any successful clean-energy transition, and as they are the companies that currently supply the vast majority of global energy supplies, we have to agree.
A corporation's mission is to make a profit, and a lot of companies will make a lot of money reducing greenhouse gases.
Activists and policymakers must accept that energy companies are part of the solution, even if they contribute to climate change in the time being. Globally, 34 percent of our energy comes from oil, 27 percent from coal, 24 percent from natural gas, 7 percent from hydroelectric, 4 percent from nuclear power, and 4 percent from renewable energy.
Taking action on the climate change oil industry
Yet even people who experience extreme weather events often still refuse to report the experience as a manifestation of climate change. Polls tell us that many people are worried about climate change, but that does not seem to motivate much willingness to take action to mitigate it. This is clearly not something that is amenable to an individual or even group psychotherapy.
Even the oil industry is itself being hampered in its quest to suck out ever more oil from the Arctic by rising temperatures. "I'm not debating what's happening," Brian Shumaker, Anchorage Businessman says. "What are we going to do about it?".
For an industry that's often blamed for climate change, and spend much on denying it's even happening, talking about coping with it can be awkward. Multiple oil companies contacted for this story turned down interview requests. "It is ironic, and it's challenging for a state that is so dependent on resource extraction but is also really feeling the impacts of climate change," said Josh Kindred, who until recently represented many oil companies within the Alaska Oil and Gas Association.
There are no silver bullets, and no such formula will ever take into account every consideration when addressing fair expectations for an individual nation, but I believe it could be a good starting point. If we agree that humanity is driving the engine responsible for accelerating climate change and decide it is in the best interest of the world to start really getting off oil, and gas, then we need to take collaborative and swift action to curb carbon emissions around the globe.
Oil industry article suppression about climate change
Exxon vice president for public and government affairs Kenneth P. Cohen sent a letter to Columbia University, accusing members of the graduate school of journalism of violating the school's ethics policies. He did this regarding the recent articles regarding Exxon's climate change-related research going back to the 1970s. The Dean of the Columbia graduate school of journalism, Steve Coll, issued a response defending the articles.
We have written articles on HubPages and debated other Hubbers on climate change. The fact remains that after all these years, despite all the conferences and accords, the "experts" have not yet acted, tells me something new needs to be tried.
The "experts" have not done a good job in terms of projecting future events or educating the masses or demonstrate their credibility or lack thereof.
Climate Change and Energy
It may be easier and more effective for groups of people to demand that countries impose carbon taxes and spend heavily on sustainable energy than it is for individuals. Katharine Hayhoe, a climate scientist who emphasizes "I am a Christian," endorses this approach to overcoming resistance to accepting climate change. She writes; "that's why changing minds also requires providing practical, viable, and attractive solutions that someone can get excited about".
Ers conducts research on a range of climate change issues related to agriculture, including:. The impacts of climate change on crop and livestock production. The implications of climate change for agricultural markets and the cost of government policies/programs. The international land-use implications of bioenergy and food production.
The oil and gas majors may be changing but only slowly. Unless they show they are now up for decarbonization in a big way, opponents to fossil fuels will continue to lay the majority of the blame for climate change on these industries. There is nobody actually in the climate change oil industry making a cogent argument against the green energy industries in their role as the virtuous option because everyone agrees that alternative sources have less impact.
But the question ends up being answered by cost, and thankfully from now on, with renewables proving cheapest by a significant margin for all newly installed coal plants, the dye is set for huge gains for renewable energy. That climate change action will soon prove unstoppable is looking increasingly likely. There are good grounds for optimism.
What About Reversing Climate Change?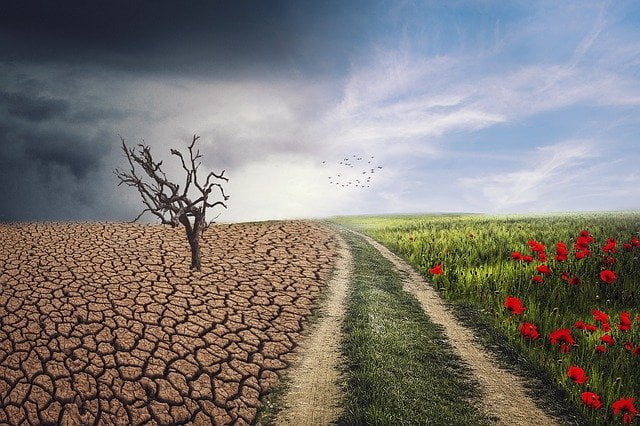 What about climate change? Can it be slowed or even reversed?
Yes. It can. It's simply a matter of doing things differently. Alternative organic fuel sources are available out there.
There are for example enough rice husks burnt in the field globally every year which if turned into biogas which was used as a renewable replacement to aviation fuel, would be enough to power all the world's airlines forever.
Many leading businesses are pledged to net-zero emissions. For example, the emissions created, thanks to Microsoft's technological solutions, are essentially offloaded from Microsoft's carbon balance sheet and responsibility ". And, the math behind climate science is pretty straightforward.
It's simple. We need to keep the majority of fossil fuel reserves which remain in the ground if we hope to prevent dangerous climate change," said Gary Cook, a Global Climate Campaigns Director.
The Climate Change Oil Industry Reluctantly has to Accept
We can affirm without a doubt that anthropogenic climate change is a real phenomenon that is already apparent and will, if not mitigated, cause terrible suffering and destruction before this century is over. A recent report from the United Nations-sponsored Intergovernmental Panel on Climate Change IPCC, tells us we can still hope to avert some of the catastrophic consequences of climate change, but only if we "abandon coal and other fossil fuels in the next decade or two".
The fact of the matter is that until now the oil and gas industry majors have not accepted this. Fortunately,, they are starting to see that they can't behave in this manner because of what we now know about climate change.
China, for instance, has produced more total carbon emissions than the U S. and India combined since 2013. But, at least the Chinese have also become the world leader in the manufacturing of photovoltaic cells. They may have built and commissioned many coal power stations in the past 10 years, but they also produce roughly a quarter of their electricity from renewable sources (especially hydropower).
As the cost of winning and burning power from coal becomes ever more expensive when compared with that produced by using the products of their own renewables industry, they will surely de-commission many of their coal plants before they reach the end of their normal useful lifetime.
Compressed Natural Gas (CNG) and Climate Change
CNG is meanwhile likely to be an interim fuel especially for trucks, due to its reduced carbon emissions, and part of the available CNG used will be renewable CNG (rCNG) and will include some renewable LNG (Liquified Natural Gas from biogas) which is essentially biomethane derived from biogas plants fed by organic waste sources.
We don't think anybody is really in favor of extracting any more natural gas than is absolutely essential but until renewable alternatives to natural gas come available a harsh reality is that it will have to be used in the climate change oil industry, as it will be seen as a lesser (greenhouse gas) evil than coal or oil.
The Raven haulage business started an LNG truck rollout in Ohio a few years ago with 30 trucks, demonstrating their commitment to this fundamental change. After successfully running them in that region, they have added six more trucks in Florida. It was a move specifically designed to test LNG fueling in a hotter climate. They have been extremely pleased with the success of the expansion. employee, Mr. Silverman identified the only real challenge in the transition as the cost differential of the LNG converted trucks themselves.
---